News from the Field - November 2017
Christmas tree season is fast approaching!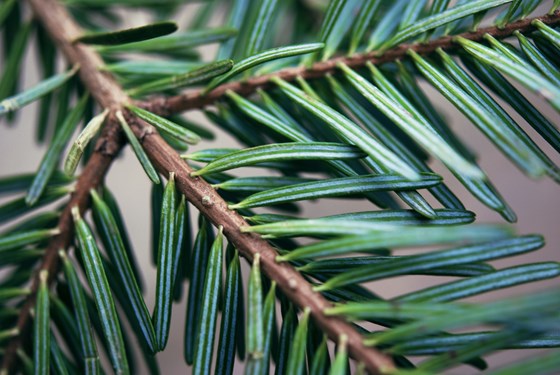 All our winter crops are now sown, despite the challenging conditions. It's been a long while since we've had ground this wet in the autumn - I'm sure your gardens are feeling it too! With the wet weather in mind we have been doing some drainage work in the Boat Lane area, installing a drain valve in the lowlands to divert water from the fields when the river levels get too high.
The warm and wet conditions have also meant that we have kept a very close eye out for disease in the oilseed rape. However, it seems to be growing well and for some reason we haven't had the problems with flea beetle that we normally see. Perhaps it was because this year's seed bed was exceptionally good, meaning the beetles didn't have their usual clods of earth to hide under…or perhaps they just got washed away!
At this time of year, we inevitably turn our attention to the tree plantations. I went up to our sister-estate at Hawnby a couple of weeks ago to check on the progress of their fir trees, as around 30 per cent of the trees we sell at Methley are grown there. Whilst I was there  we filmed some videos for our facebook site about how to care for your Christmas tree so do 'like' our facebook page @methleyestate to see the finished video!
Enquiries are coming through thick and fast about Christmas trees and we are starting to clear the sales area ready for opening on 25th November. Once again, we will be offering a pop-up shop selling wreaths, decorations and trees, as well as our popular cut-your-own service. Rivers Meet café will be serving refreshments at the weekends, and we will also be offering tractor and trailer rides then too. The rides will continue to be free, but this year we'll have a donations bucket on board for the 'Give a Duck' charity. This is a charity that provides toy ducks for children with cancer in Yorkshire and beyond, where they are used as tools by parents and health workers to teach children about what will happen to them during their chemotherapy treatment. It's a charity that is supported throughout the year by the Rivers Meet café and we are really pleased that we can also to be involved in fundraising for such a worthwhile cause.